The German Public Relations Council is funded and supported by three professional associations:
Deutsche Public Relations Gesellschaft (DPRG) [the German Public Relations Association],


Gesellschaft Public Relations Agenturen [the Association of Public Relations Agencies],


der Bundesverband der Kommunikatoren (BdKom)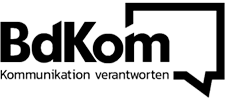 Members of the support association are Uwe Kohrs (Chairman GPRA), Norbert Minwegen (President DRPG), Prof. Dr. Alexander Güttler (GPRA) and Thomas Zimmerling (committee member DPRG).
By founding the support association, the professional organizations have fulfilled their responsibility to provide a secure legal and financial basis for the work of the German PR Council. The provisions of the constitution give an institutional foundation for the autonomy of the Council's decisions.